Can you Sing?
If the answer is yes we are always interested in recruiting new members.
You don't have to be able to read music, but you do need to be confident in holding your line against other singers.
It costs £80 a year as a standard member, with discounts for students. The membership fee covers rehearsal costs, costume hire, makeup costs, insurances etc.
For the Chorus, rehearsals normally take place weekly on a Monday, with some Fridays as we get closer to the show date. Principals are required on Mondays and Fridays, once production rehearsals commence.
Auditions
General: Anyone who wasn't on stage in the group's previous production, and are wishing to join us for our next show, is required to audition to join the group. The audition process allows us to hear each voice and determine their suitability for joining/ rejoining and to help to allocate voices to singing parts; Soprano, Alto, Tenor, Baritone or Bass.
Auditions will normally take place at the end of a rehearsal and the auditioning panel will usually be made up of the Musical Director, Chair and other members of the council of management.
Principal: We hold annual principal auditions for members wishing to play a principal role in the forthcoming show. During this audition you will be required to sing and read/ act predetermined audition pieces.
The auditioning panel is usually made up of the Musical Director, Director, a member of the chorus to act on behalf of the council of management and not auditioning for a role and a person from outside of the group.
Important
Audition requirements will be published on this website in advance of the audition date.

Persons wishing to audition must inform the audition secretary in advance in writing (via an online form)

We welcome anyone to audition for a principal role, however, it should be noted that where there are two people of equal ability priority will be given to the person who was in the previous production.
The council of management is required to ratify the casting prior to announcement to the rest of the group
Where we are unable to cast a particular character, we will usually re-audition for the role.
Where a principal drops out of the role, we will usually offer the part to the understudy.
Rehearsals
We rehearse at Boothville Community Hall, Boothville Northampton every Monday from 7.30pm - 9.30pm
Click Here for more information and a map.
Principal rehearsals are held on Friday evenings at an alternative venue.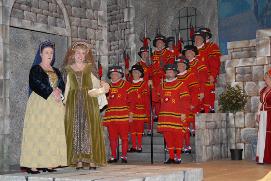 Could you help us backstage?
We are looking for
Stagehands,

Wardrobe Assistant,

Make-up Assistants

Prompt
If you are interested click here