The Gondoliers
Principal Auditions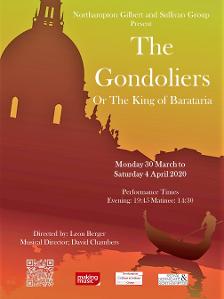 Principal Auditions* will take place in September date TBC:
from 7.00pm
at
Boothville Community Hall
3 Booth Lane North, Northampton NN3 6JE
To register your interest in auditioning for a principal role please complete the application form here
Audition Requirements
Please ensure you download the correct music and dialogue audition requirements
Important Information*
If you would like to audition for a principal role in the Group's 2020 production of 'The Gondoliers', you will be required to complete and submit the application form.
Anyone wishing to audition for a principal role must have paid at least half the group's annual subscription fee.
Our current annual membership fees are:
Playing Member: £100
Playing Life Member: £45
Student Member: £35
If you were not in last year's production of 'H.M.S. Pinafore with Trial by Jury', you will be required to have successfully completed a general audition in advance of the 15th July 2019.

General Auditions will take place as required following each Monday rehearsal.
The Audition Panel
The audition panel will be made up of the following:
Leon Berger - Director, David Chambers - Musical Director
Keith Scott - Committee Member, Simon Crask - Chairman
Pianist - Sue Rayment
To ensure absolute fairness we do not allow anyone on to the audition panel who has a close tie with any person auditioning.
Additional Information
In the event that two auditionees are of an identical standard during the audition process the following rule will apply:
1. The person who appeared on stage with the group in the previous production will take precedence over a new member